It's finally starting to warm here by the coast of California and I must say I'm ready to welcome spring with open arms! Flowers are blooming, the sun is perfectly warm, and it's getting time to plant my veggies in the ground. Afternoon naps are slowly trying to sneak into my daily routine as well. I'll let one or two in though! =)
I had mentioned before that a couple of my closest friend are gettin hitched this year and one of them was just staying with me for a couple days so we could get some stuff done for her wedding. One of the things that she saw and loved was a Thumb Print Tree Guest Book. It's actually not a book at all but a painting. It's a bare tree and guests pat their thumb on an ink pad and make the leaves of the tree by pressing their thumb print where the leafs would normally be. Then right under their "leaf" they sign their name. Very clever and prefect for the type of wedding she's throwing! After she explained to me what she wanted I knew it would be super easy, and it was! It was a little time consuming but it was well worth it. This will be a piece that will hang on their wall forever. I'm honored to have been able to make something like that for them.
You can make them too though with just a little time and some paint! I'm planning on making some to put in my soon opening Etsy shop for weddings and baby showers too. So make one if you want or have me make one for ya! Either way it will be something that you will cherish!
Thump Print Tree Tutorial:
What you'll need:
A Canvas in your choice of size
Acrylic Paint in at least brown. If you choose to put birds and or a heart like I did, grab those colors too!
A Fine tipped paint brush to get clean lines (used a wide flat brush that worked wonderfully)
A Pencil
An Eraser
1. So first, Sketch out a tree with your pencil. If you get any pencil smudge you should be able to erase it with your eraser. My bestie showed me this picture but said she wanted 2 birds on the right hand side sitting on the branch. Also she wanted a heart with their initial (M + A) and wedding date in it. No biggie!
So here's what I came up with.
It doesn't have to be perfect because you're going to paint over all the lines anyway. When sketching remember that just like with paper, if you're lines are to dark then you wont be able to get rid of them by erasing. So think out where you want your branches and the "leafs" to end up.
2. Now it's Painting time! This was the longest part for me because I have always had a little bit of a shaky hand so I went pretty slow to avoid a squiggly line running off the canvas like a 5 year old might do. I still have a hard time staying in the lines. Good thing with this project I was supposed to cover them anyway. =)
And done painting in the tree!
3. All that's left is to color in your birds and heart and your done!
Blues with yellow highlights are the color theme of her wedding so that's what colors the birds are.
And here's the heart. I was trying to make the letters and numbers look like the heart and initials that are traditionally carved in trees. It came out ok I think. This is actually a really light pink looking coral that she picked out. =)
And the finished product!
Once it has all it's thumb print leaves it will look all complete! I'll take a picture of it in June to update this post with.
I thought this cropped version on the painting would actually make a cool picture just as is. I'll get around to doing it sometime. =)
I really had a great time making this and hanging out with my bestie for a couple days! I can't wait for her wedding to roll around because it's going to be just like the wedding I would throw now if I was getting married. Everything we've shown each other while brain storming for her wedding has gone something like this: "Hey look at this. I'm kind of in love with it. What do you think?" "YES! That is so happening!". No joke. Even after living 3 hours away from each other for the last 6 years and only talking once a month and we still are like sisters. Some things just never fade. What a blessing! I just love the direction her wedding is going in though. For some reason I never thought to go less traditional. I loved my wedding though but I just adore the real hand-spun, soft, beautiful, country style feeling weddings are having these days.
Have I mentioned that I'm kind of in love with weddings? I totally am. If I wasn't scared of bridezillas I would be a wedding planner. Maybe one day I could be a wedding photographer or a wedding cake decorator? Who knows. As for now I get to help some of my closest friends make their days extra special and for that I am glad!
-Andrea
Where I'm partying!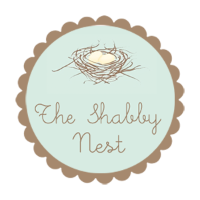 Creation Corner